Nashville Party Bus
Bachelorette Party Transportation
Nashville Party Bus
Bachelorette Party Transportation
Nashville Party Bus Shuttle
Party Bus Shuttle Services
Nashville offers numerous Nashville party buses, Nashville party tractors services and Nashville party bikes. Each offering a unique and fun experience.
The problem with Nashville party bus, Nashville party tractors and Nashville party bikes is they don't have their own shuttle service to pick up and drop off their guests. Worse yet most groups need multiple ride share rides to get to their Nashville party bus that end up costing you more money or make them late to their tours.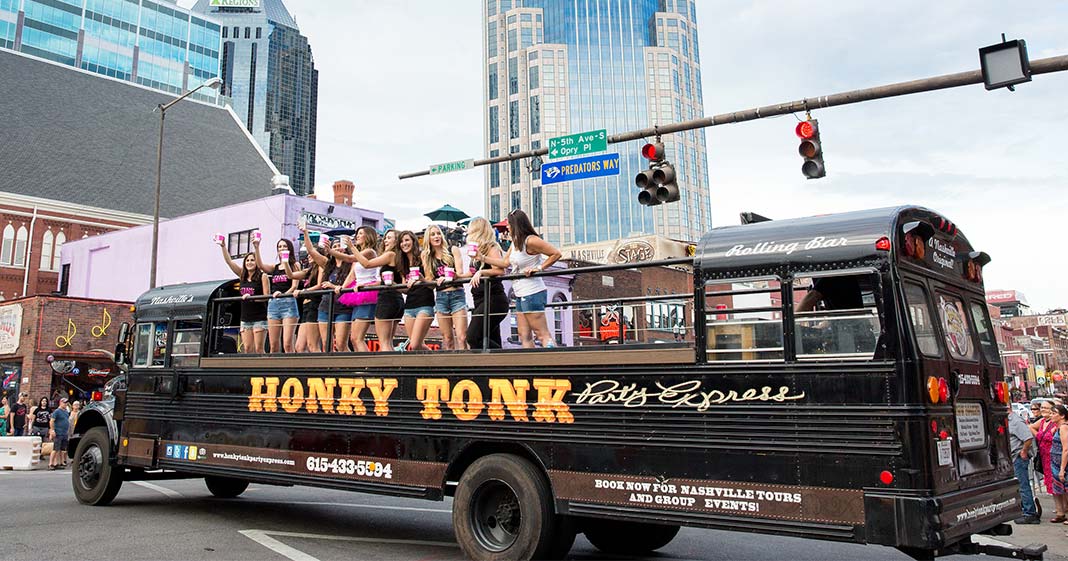 HONKY TONK PARTY SHUTTLE SERVICE
The Honky Tonk Party Shuttle Transportation service solves that problem. We can easily transport you and your entire party crew to your next Nashville party bus, Nashville party wagon or Nashville party bike tour. No more waiting for multiple ride shares. Simply book with Nashville shuttle service and easily be dropped off for your next Nashville party bus tour and picked up after your Nashville party tractor tour is finished.
NASHVILLE PARTY TOUR COMPANIES WE SERVICE
Honky Tonk Party Express
Voted "Nashville's best party bus" by TripAdvisor & Nashville Guru our custom-built, open-air party buses, are best described as "Mardi Gras meets Nashville." Your party bus comes complete with a large bar, coolers, ice, cups and a VIP bartender. Equipped with an impressive sound system, get ready to experience Nashville to the best music or your very own custom playlist. A large LED-lit dance floor with large benches for dancing will ensure you and your party become "Nashville Famous." We do all this with no roof! That's why they call us the ultimate party bus!
Call to book your Honky Tonk Party Shuttle today! 615-433-5594
LEARN MORE
Off The Wagon
The Nashville Party Wagon is the place to be! Come experience Music City and our Nashville tractor tours. Bring your bachelorette party, birthday party or corporate event and lets get the party going. Before you go to the honky tonk to party, come pregame with us.
Call to book your Off The Wagon Shuttle today! 615-433-5594
BOOK NOW
Upstage Party Bus
Welcome to Upstage Party Bus, the worlds largest open-air coach bus! We offer both shared & private tours, each are 2 full hours long! All of our tours have a professional DJ, bartender, & CDL Driver. We are a BYOB, which makes our tour cheaper and more convenient for you. The pickup & drop off location is a liquor store, so no need to pack a cooler, we have refrigeration!
Call to book your Upstage Party Bus Shuttle today! 615-433-5594
BOOK NOW
Hell on Wheels
Get ready to party through Music City on the biggest, baddest military trucks in town while giving back to the Homes For Our Troops charity! Saddle up and get rowdy with the following: VIP party concierge, worlds loudest wireless sound system, cups, cooler, ice, and the best party playlist on Broadway!
Call to book your Hell on Wheels Shuttle today! 615-433-5594
BOOK NOW
Nashville Pedal Tavern
Enjoy one of the best things to do in Nashville! Voted the #1 Outdoor Activity in Nashville, our party bikes can accommodate up to 15 people and we welcome groups from 6 to over 150. Celebrate weddings, anniversaries, birthdays, holidays, company outings, team building, vacation adventures and Nashville bachelor parties or Nashville bachelorette parties with our party bikes.
Call to book your Nashville Pedal Tavern Shuttle today! 615-433-5594
BOOK NOW
Sprocket Rocket
What makes the Sprocket Rocket the #1 Party Bike and Tavern Tours in all of Nashville? Your overall experience is second to none! We start by offering over 58 ride times per day, a downtown location for easy pick-up and drop-off, a dedicated driver, an experienced bartender, a premium sound system, an electric assist motor, LED party lights and overall the best party on wheels. Book your party bike today!
Call to book your Sprocket Rocket Party Bus Shuttle today! 615-433-5594
BOOK NOW
Nashville Party Barge
Nashville Party Barge is one of Nashville's top BYOB party bus tours and the most unique tour of Music City. We offer a two-hour party tour with an open-air concept, allowing you to feel the breeze on your face while you enjoy chilled drinks. Jam out to your favorite tunes as you "float" down Broadway with 360-degree views. We provide you the cups, cooler, ice, and the opportunity to make memories with your friends and family.
Call to book your Nashville Party Barge Shuttle today! 615-433-5594
BOOK NOW
Pontoon Saloon
The Pontoon Saloon® is the premier party pontoon located at lower Broadway in downtown Nashville. Expect to be mingling, dancing, and boozing to the best mix of tunes while cruising down the Cumberland River. It's the best honky tonk booze cruise on the water!
Call to book your Pontoon Saloon Shuttle today! 615-433-5594
BOOK NOW
Nashville Tractor
The Nashville Tractor operates Nashville's biggest Tractor Party Wagons. We are the only rolling entertainment where you get non-stop partying and dancing for 75 minutes! These monster wagons have been featured in numerous music videos, news stories and reality shows on MTV like Siesta Keys. Hell yes, Size Matters, when it comes to partying so party big.
Call to book your Nashville Tractor today! 615-433-5594
BOOK NOW
Rowdy Bus
The Rowdy Bus is the Nashville party bus that will ensure you have a great time regardless. The bus is versatile enough to work for birthday parties, bachelor parties, corporate events, and much much more. You can even book a single seat to enjoy the atmosphere with a few friends or a bunch of fun people you just met.
Call to book your Rowdy Bus today! 615-433-5594
BOOK NOW
Drag Bus
We are Nashville's ONLY Party Bus where Drag Queens are your guides! Sip on beverages while enjoying a cruise filled with ice breakers, performances, laughing, singing, & dancing in downtown Nashville. Whether it's a Bachelorette, Birthday, Divorce, Going-Away party, or simply a Saturday—Big Drag Bus is the perfect plan.
Call to book your Drag Bus today! 615-433-5594
BOOK NOW
Ultimate Party Bus
Climb aboard Nashville's Ultimate Party Bus and have the time of your life!! Upon arrival you will be greeted by our friendly staff to get your drinks on ice and enjoy 2 hours of fun and excitement.
Call to book your Ultimate Party Bus today! 615-433-5594
BOOK NOW
Custom Nashville Party Bus Shuttles
We're happy to tailor your Nashville Party Bus Shuttle trip by providing individual or private group tours and parties. Please fill out the form below and we will contact you to help create the perfect Shuttle experience.